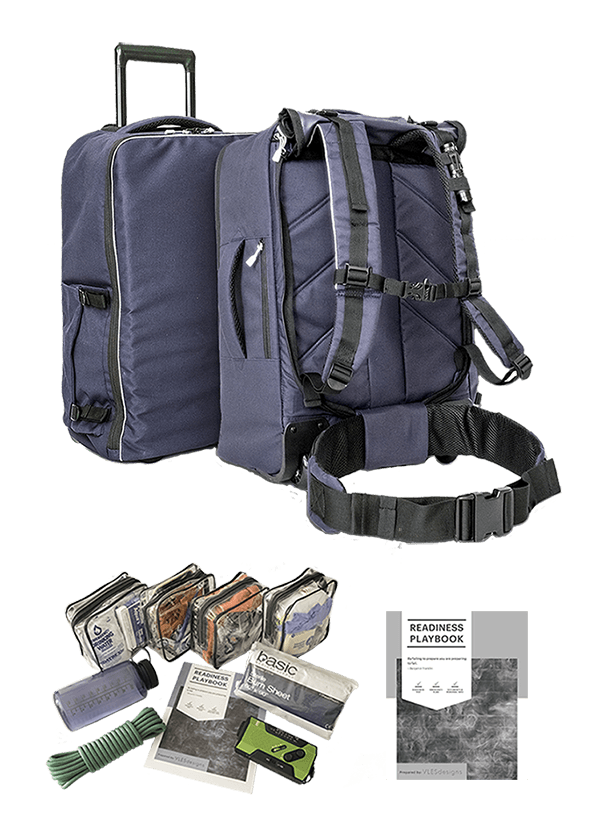 A GO-bag is a lot like insurance; you hope you never need to use it but it's essential to have when you do. Like insurance, a little upfront time and expense can go a long way towards peace of mind in an emergency.
The following is the nitty gritty of how to make a go bag:
Gather supplies. You'll need first aid supplies, emergency supplies, hydration and snacks and personal items - see a full list of suggested items here.
Put your gathered supplies in a bag of your choice. The bag should be sturdy so it won't fall apart when you need it most.
Make copies of important documents such as prescriptions, driver's license, passport, etc. and put the copies in your GO-bag.
Make an evacuation plan and share it with your friends and family. Put a copy of the evacuation plan in your GO-bag and periodically practice your plan. You can download our free Readiness Playbook which will guide you through making a plan.
Learning how to make a go bag doesn't have to be complicated nor time consuming. Being prepared by learning how to make a go bag and then putting one together is, just like an insurance policy, something you should not do without.

© 2019 VLES designs. All Rights Reserved.